We spent $20k+ on Google Play Pre-Registration Ads. Here are the results...
For a long time we dreamt of bringing our meal planning app MealPrepPro to Android. To generate interest in the launch, I thought I'd try out a pre-registration campaign for the Google Play store.
How pre-registration works
Using pre-registration, people who are interested in your app can register to download it.
Here's how it looks in the Google Play Store: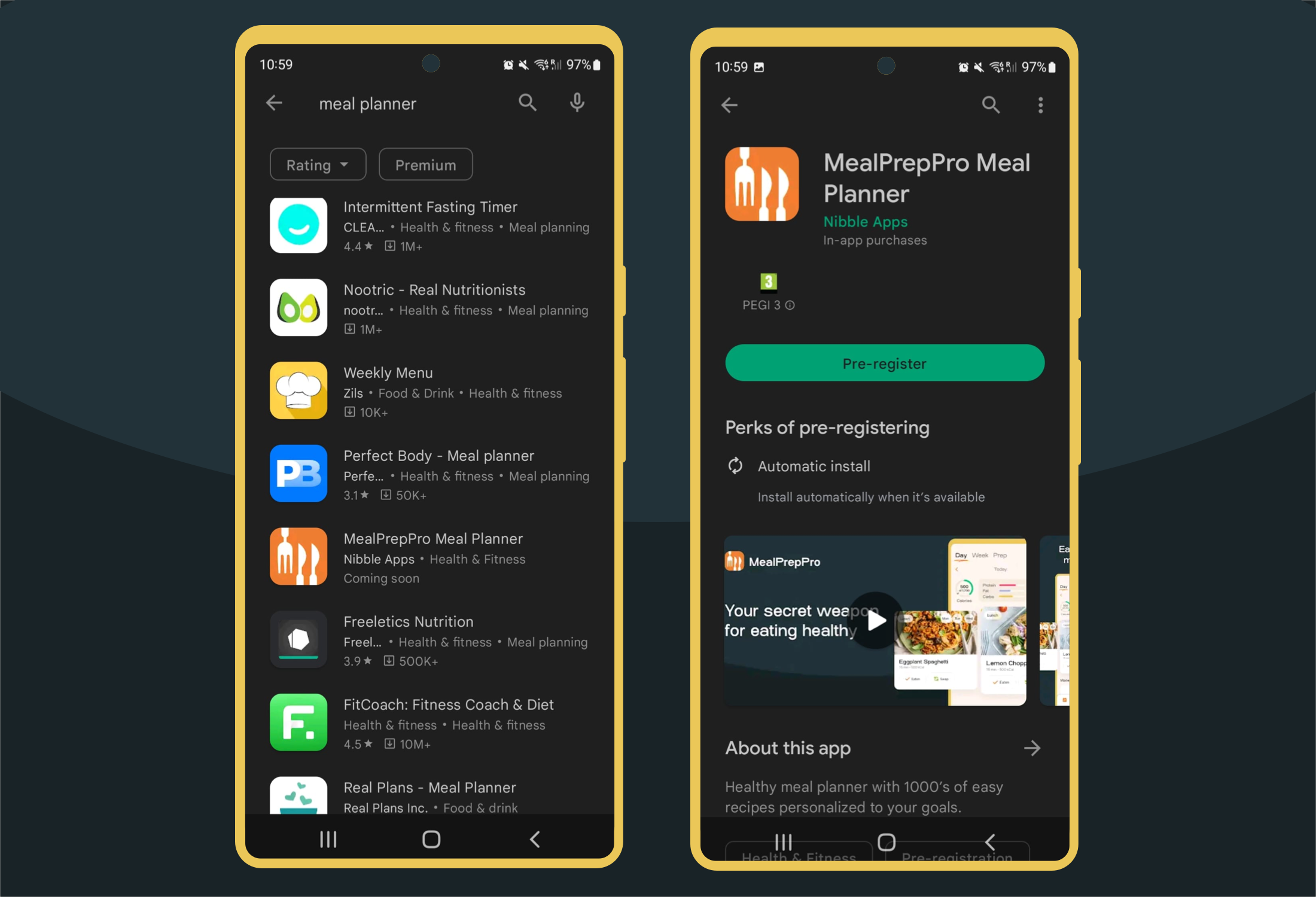 People tap on pre-register and then on the launch day the app gets downloaded.
You can setup a pre-registration campaign up to 90 days before your app launch.
Enter Google Ads
To boost our pre-registrations, I also setup a Google Ads pre-registration campaign.
We let the ads run and kept an eye on the cost per conversion.
In the mean time, things got busy with beta testing and getting our app ready for launch.
Launch day
On the 24th of October, it was time to launch MealPrepPro.
Google Ads reported we had 16,171 pre-registrations. I was excited as I thought this would give us great momentum on our launch day.
I hit the publish button and checked my Google Pixel phone to see how pre-registration would work on the launch day.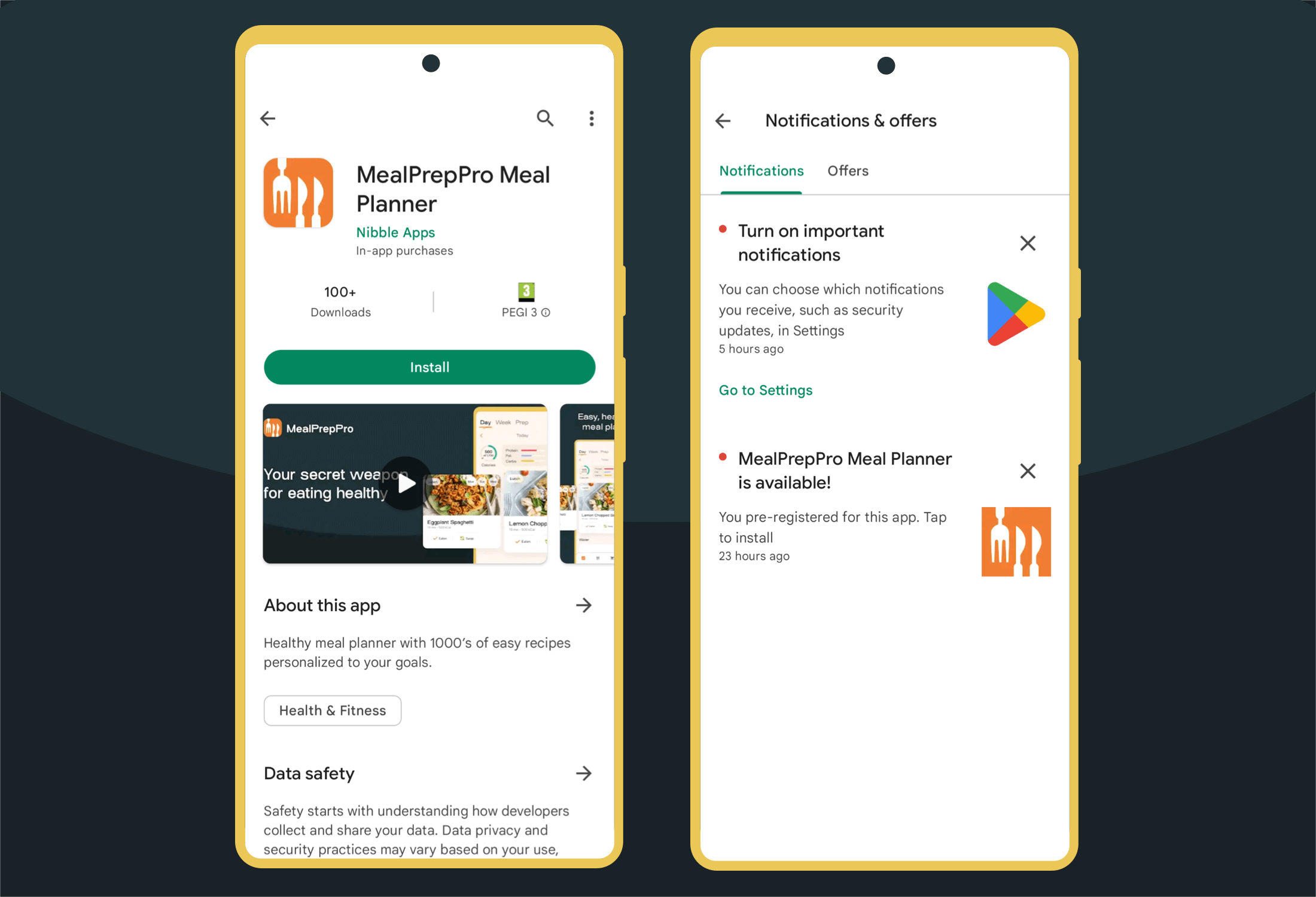 After 6 hours, the app had still not automatically installed to my device.
I tried to coax it to automatically install:
Tried connecting my phone to wifi
Tried plugging in my phone to the charger
Tried restarting my phone
Nothing.
This wasn't a good sign 🤔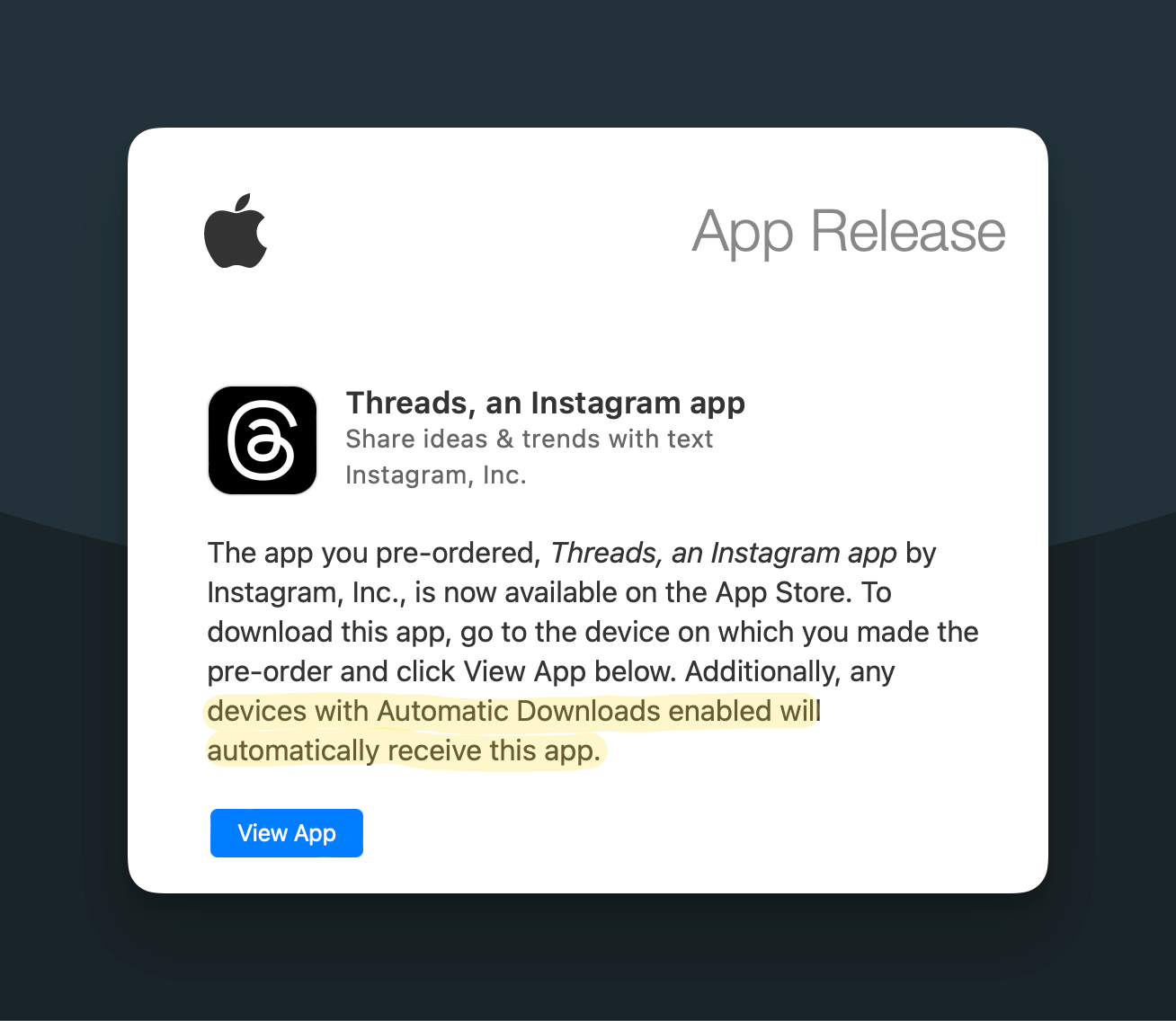 On the App Store, when you pre-order an app, it gets automatically downloaded to your iPhone. You also get a push notification and an email.
Google Play didn't email me. They didn't automatically install the app. I only received a push notification.
I was nervous about this experience and what it would mean for the thousands of dollars we'd spent on the pre-registration campaign.
Results
16,171 conversions according to Google Ads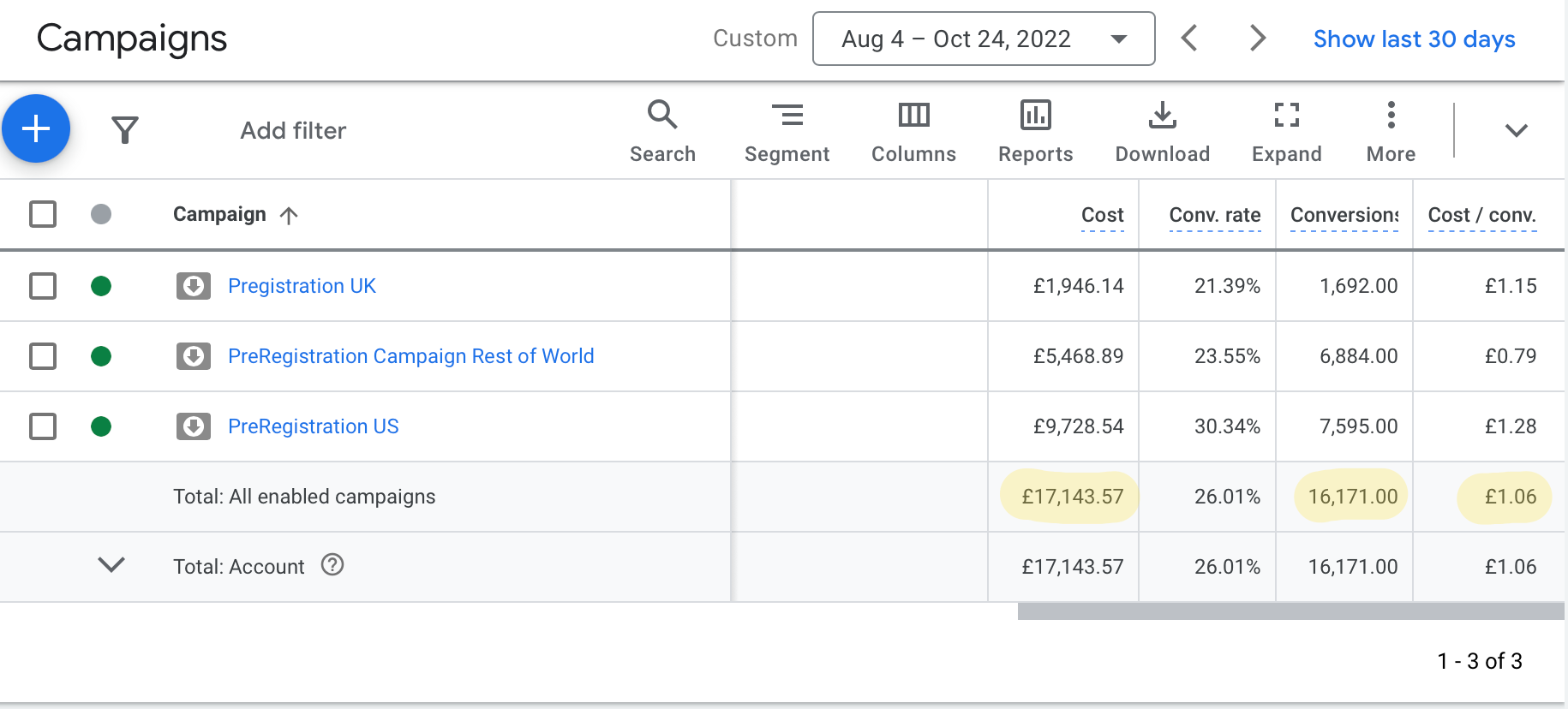 1,371 installs according to Google Play Console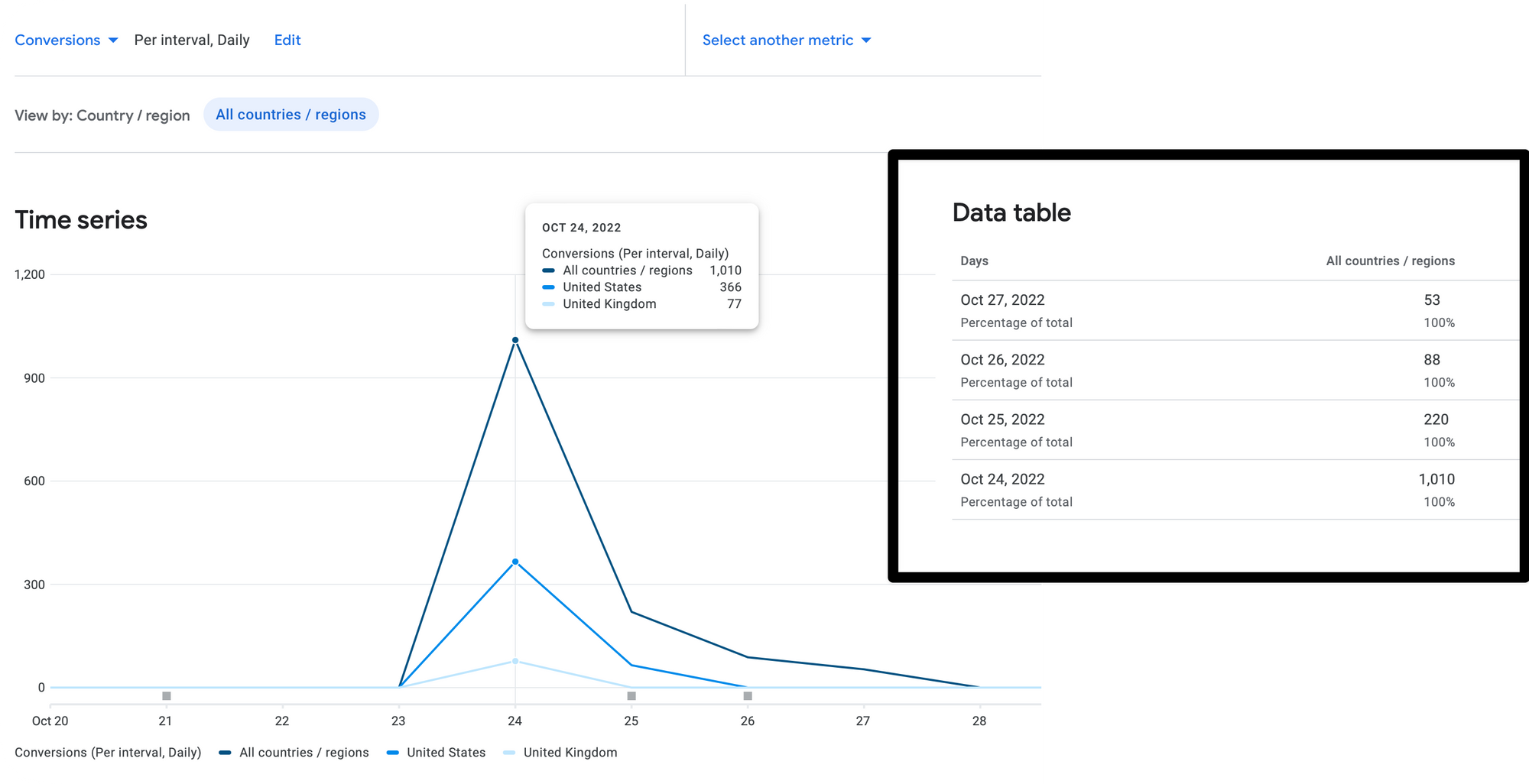 Out of the 16,171 pre-registrations we paid for, only 1,371 went on to install the app.
Instead of spending £1.06 ($1.36 USD) per conversion, as Google Ads reports, we actually spent £12.50 ($16 USD) per conversion.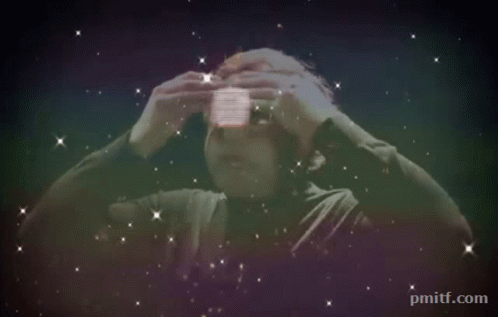 We spent 12x more per conversion than what we expected.
To put it in an mildly understated British way "That's not great".
In American English "That's a disaster".
There must be some mistake...
When our Google Ads dashboard said we have 16,171 conversions, we didn't question the accuracy.
We knew not every single person of the 16,171 will install, but never in a million years did we think our installs would be 12x lower than what Google reports.
No problem we thought. Surely, there's been a mistake. Perhaps there was an issue in Google Ads or an issue with how Pre-Registration works in the Google Play store.
Time to contact Google support.
Initially the Google rep said our ad campaign doesn't have any assets (You don't need any for a pre-registration campaign). Then they told us we actually have 29,767 installs. Which is not true. That number refers to a separate app campaign we'd run years ago.
We spent weeks going back and forward, getting nowhere. Eventually, exhausted and demotivated we gave up. Google saw no issue in charging $20k+ for 16,171 conversions, but only giving us 1,371.
Final thoughts
MealPrepPro is built by a small indie dev team and $20k was a painful amount of money for us to waste. With pre-registration ads you're putting all your faith in Google that they'll deliver the conversions they're showing in the ads reports. It's not until you launch that you'll actually see how many install. I would never use pre-registration ads again.
Discussion on HackerNews